Thinking Of Building A New Home? Read This First!
Are you thinking of building a new home?
If you are, congratulations!
Building a new home can be a lot of fun and a great experience as you design the home to fit your style and needs.
However, building a new home also takes a lot of work and planning before construction ever begins.
At K Graber Construction we know how overwhelming all those decisions can look - but don't worry, we're article is here to help!
In this blog, we are going to look at eight guidelines to consider as you design and plan your own home.
Some of these you can decide on your own, and some are questions to ask your builder and contractor, but they are all important things to discuss as you work on your new home.
Let's get started!
Choose The Style Of Construction You Want
When building your home, there are a lot of home styles from which to choose.
Each style has its own "personality," and many homeowners narrow down the style they want based on several questions:
How many bedrooms and bathrooms do you need?
What kind of garage do you want?
What size and features do you want in a dining room and living room?
How big do you want the kitchen and pantry areas to be?
Do you want several stories and attic space, or do you prefer a single story?
Do you prefer a particular type of architectural style?
Answering these questions starts helping you eliminate the styles that won't work well with your dream home.
For example, if you want a single-story home with a 2-car attached garage, then a ranch-style home is a good place to start.
On the other hand, if you are looking for a country feel with larger rooms, then a modern farmhouse or colonial style is better suited for your goals.
Or, are you daring enough to try a newer style?
A new style becoming more popular for its simplicity, practicality, and cost-effectiveness is the pole barn home.
Based on a post-frame construction, pole barn homes are efficient homes built to require little long-term maintenance. And even though they are not a typical home build, they are still highly customizable.
The Location Of Your New House Should Have The Environment And Views You Want
When you build your new home, you might be putting it on a brand new lot, or you may be razing an old home and replacing it.
Either way, it is important to think about what you and your family want when it comes to your natural environment and surroundings.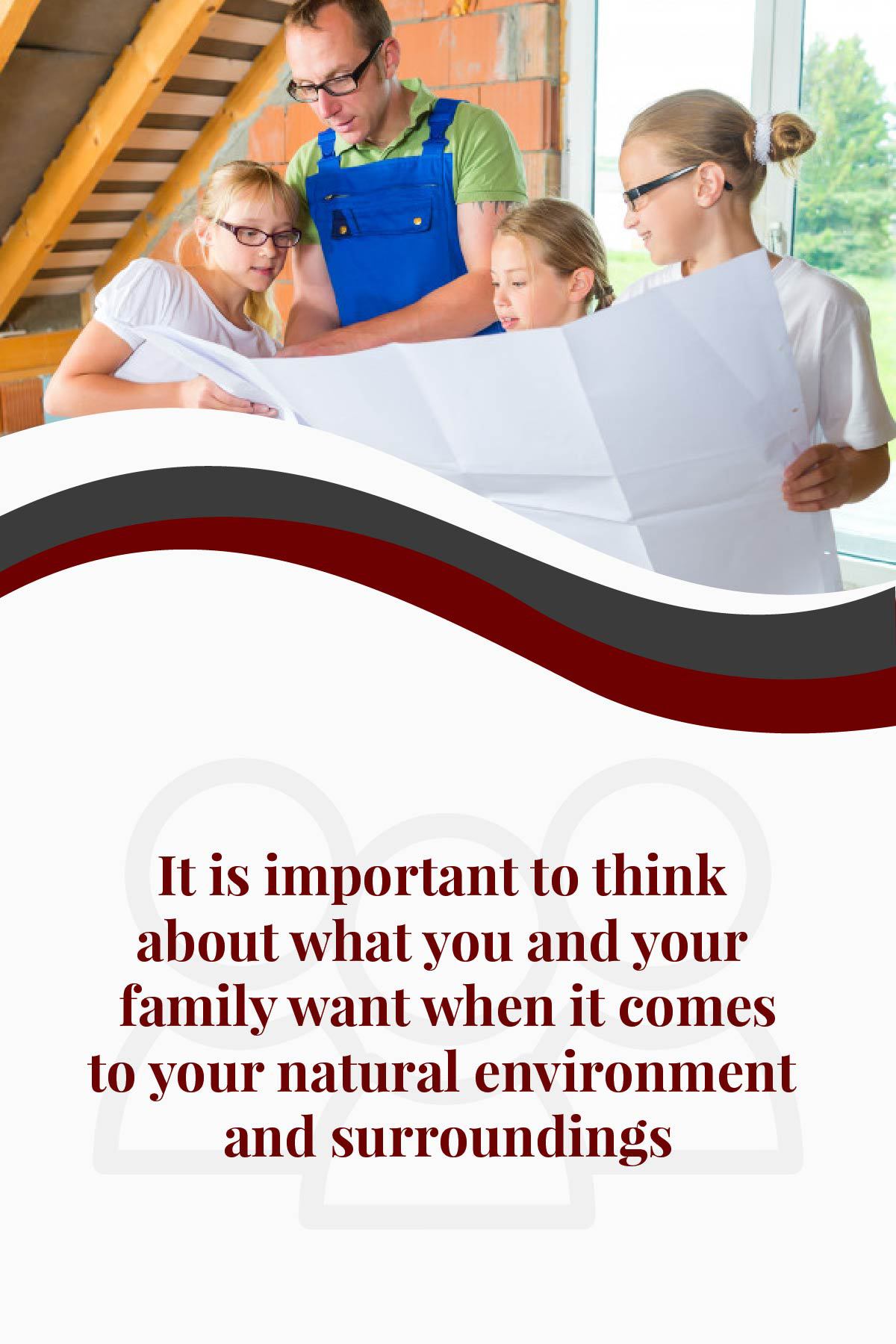 Why does this matter?
You probably will live in your new home and location for many years, and maybe even raise your family here.
If you pick a building location without visiting it first, or just because it is cheap, you may end up with a natural environment that doesn't match your landscape goals or style.
If you are replacing your existing home, then this is easier since you have already lived in the location.
If you are buying a building lot, however, you should visit the building lot and think about the surrounding environment.
Does the area match your goals for children or pets?
If you have neighbors, will you have privacy or need to build a fence?
If your goal is to have a certain view, such as overlooking a lake, does the location adequately meet your goal?
If you are building in an urban setting, there might be little to do about your environment because of the limited space. If you are moving to a rural area, you have more ability to choose your perfect location.
Water And Sewer Access For A New House
This question may require the input of a realtor, neighbor, or contractor, but you want to think about your water and sewer access and requirements.
If you are building in a town or city with public water and sewer, the answer is an easy "Yes." However, there is usually a fee to connect to these lines and often a monthly cost.
To avoid unexpected costs, you want to learn about these fees early in the process.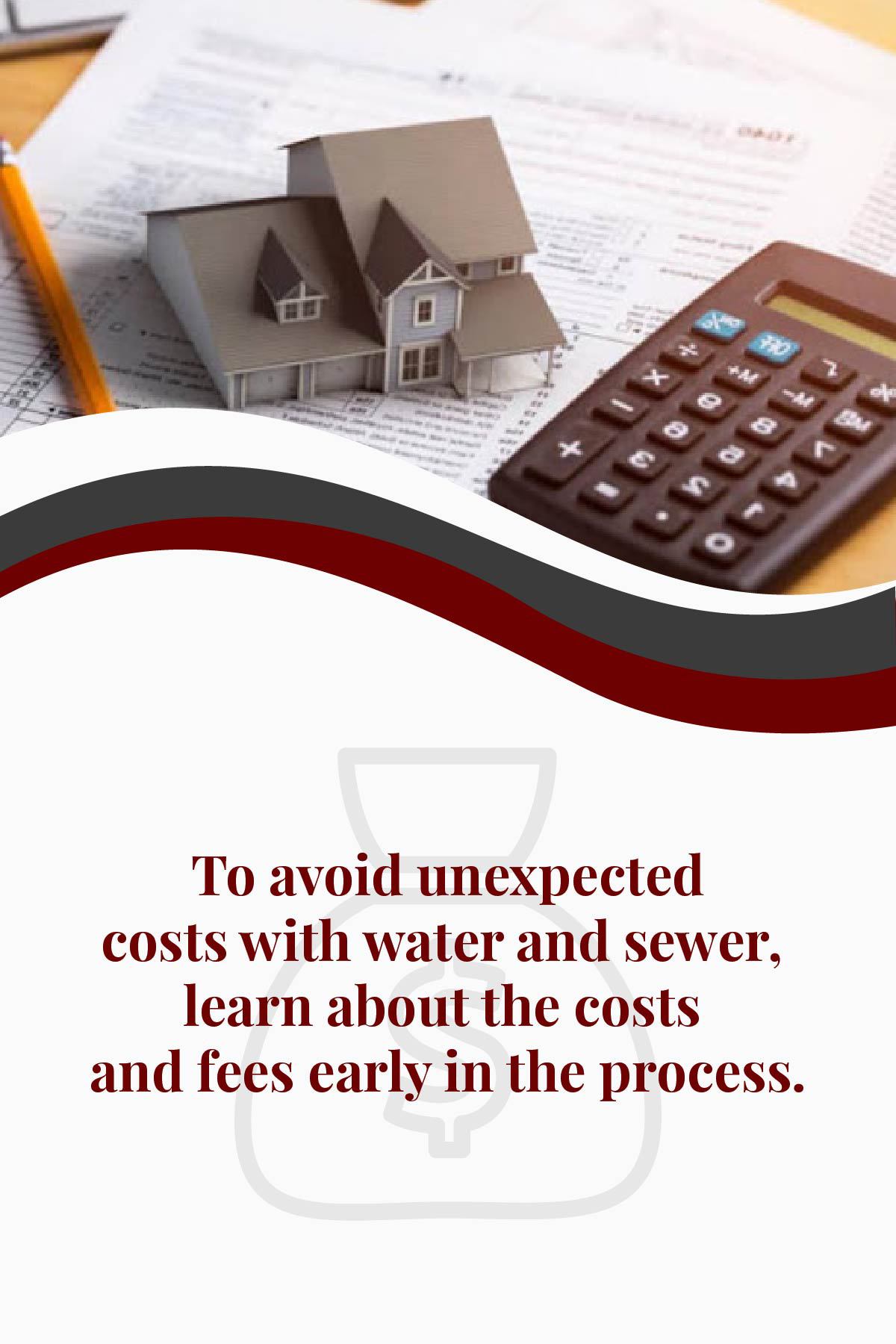 If your property doesn't have access to water or sewer lines, then you need to consider the cost of putting these on your property.
How do you get a good cost estimate for these?
Choose a local contractor who knows the area well and has a good reputation. A trustworthy contractor can provide several key pieces of information:
The general cost to install your well and sewer system
The overall condition of the water and soil on your land
Any permitting or engineering requirements to install a well or sewer system
Is There Sufficient Electric And Internet Access?
Today's world runs on electricity and the internet, but sadly, these essentials are not always readily available on empty lots, especially in rural areas.
For those with a home office, having reliable internet is especially critical.
Most areas have access to entry-level DSL internet, but if high, reliable speeds are essential, then make sure you have access to cable or fiber internet.
If you are unsure which you need, see this guide to different internet speeds and providers.
America's electrical grid covers much of the population, but be careful if you are moving to a rural lot. If the home is located some distance from the road and main power lines, there may be a cost to equip your new home with power.
Most utility companies provide the necessary lines to give your home power, but many of them charge a fee if they need to run new lines over a certain distance.
Find out the utility company covering your new home. You or your contractor should then contact the utility to see if there is a cost in establishing your new electric service.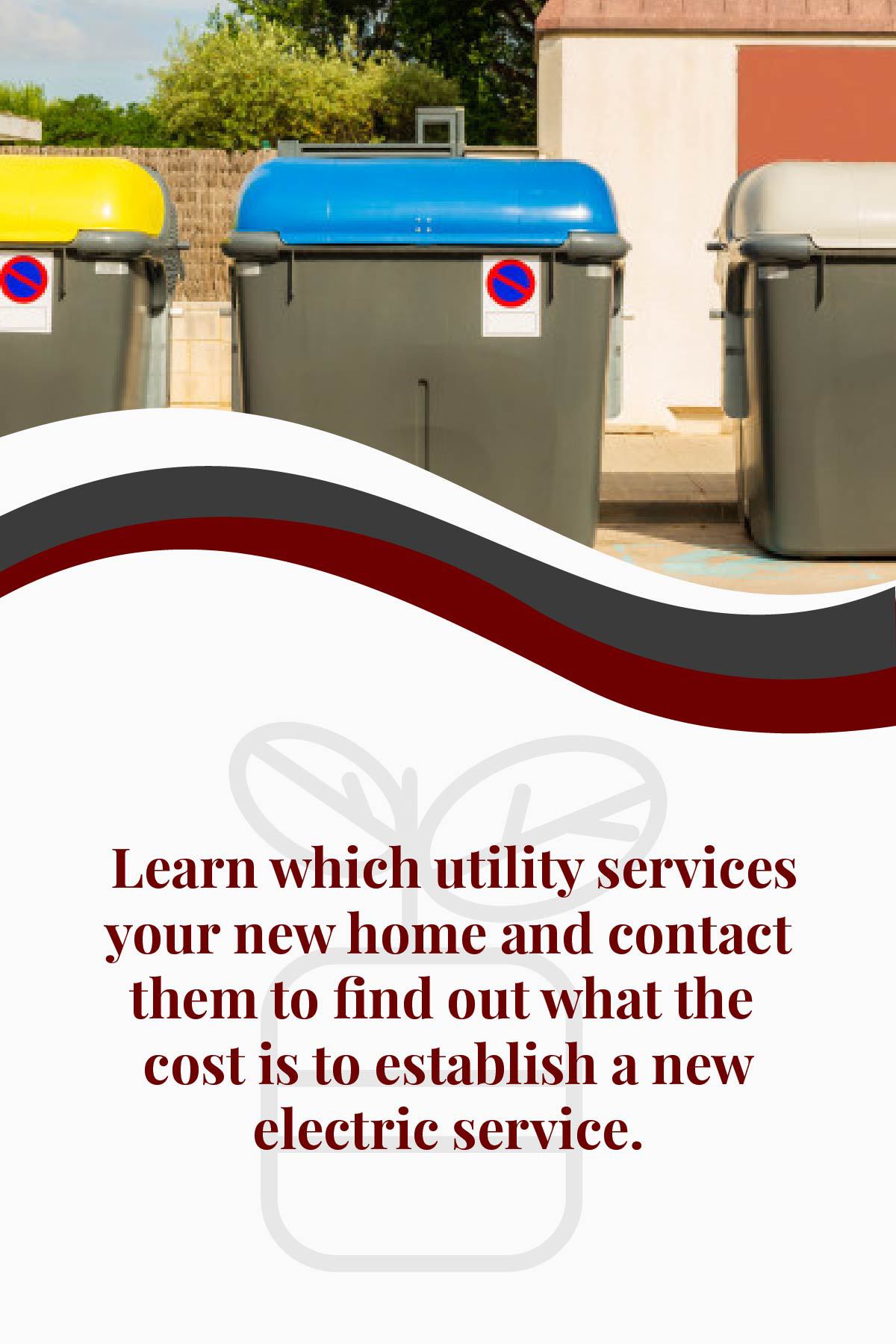 What Are The Zoning And Permitting Laws?
This is something that you want to work closely with your contractor on, but it is good to know what the general requirements are to receive approval for your home's construction.
When discussing this with your contractor, here are several questions to ask him to ensure there are no surprises:
Are permitting fees included in the contractor's cost, or are you (the homeowner) responsible for paying them?
Does this particular town require anything unusual that could delay the home's construction timeline?
Are there features of your home or building plans that might cause a red flag to the permit office?
Is your building lot zoned to build a home, or is additional zoning and time required for approval to build?
While no contractor can guarantee a town's response to a building or zoning permit application, a knowledgeable contractor should provide a good idea of the general costs and timeline.
Choose A Roofing Style: Asphalt Shingles Or Metal?
Don't be too quick to answer this question!
Many homeowners prefer a shingle roof without fully understanding the difference between shingle and metal roofs.
Before we go further, there are several types of metal roofs available for residential roofs.
Standard metal roofing is usually called corrugated roofing, there is standing seam metal roofing, and there is stone coated metal roofing.
Many homeowners shy away from metal roofing because they picture a commercial roof with a typical metal roof, or they envision a bright metal color that fits poorly with their home and style.
But don't give up on metal roofing just yet, because there is a metal roof made for homes!
Stone-coated metal roofing is one of the best metal roofing options available for homes. While it does cost more than traditional metal roofing, it is highly customizable, requires little maintenance, and lasts over twice as long as an asphalt shingle roof.
You can read more about stone-coated metal roofing versus shingles in our Definitive Guide Between Stone-Coated Metal Roofing and Asphalt Shingles, but here are several of the main points:
Asphalt Shingles:
Cheaper than stone coated metal roofing
Have the "default home" look
Usually has a 20-30 year life expectancy
Typically begin fading and curling over time
Need to be discarded when a new roof is installed
Stone-coated metal shingles:
More expensive than asphalt shingles
Highly customizable in style and color. Certain styles look identical to asphalt shingles!
Usually have a 40-70 year life expectancy
Because they are metal, they hold their color and shape for an extended time
Environmentally friendly if recycled.
Making Your Home Energy-Efficient
Having an energy-efficient home results in multiple benefits for you, your home, and the environment.
A few of these benefits include:
Environmentally-friendly due to a smaller carbon footprint
Increased comfort due to no drafts, air leaks, or hot/cold spots
Less overall maintenance
Use less energy (Energy Star certified homes use 10-30% less energy)
Save on your monthly utility bill
Better home resale value
Peace of mind knowing you are not losing money to an ineffective home
When you discuss the building plans with your contractor, make sure you ask about the building materials and methods to be used in building your home.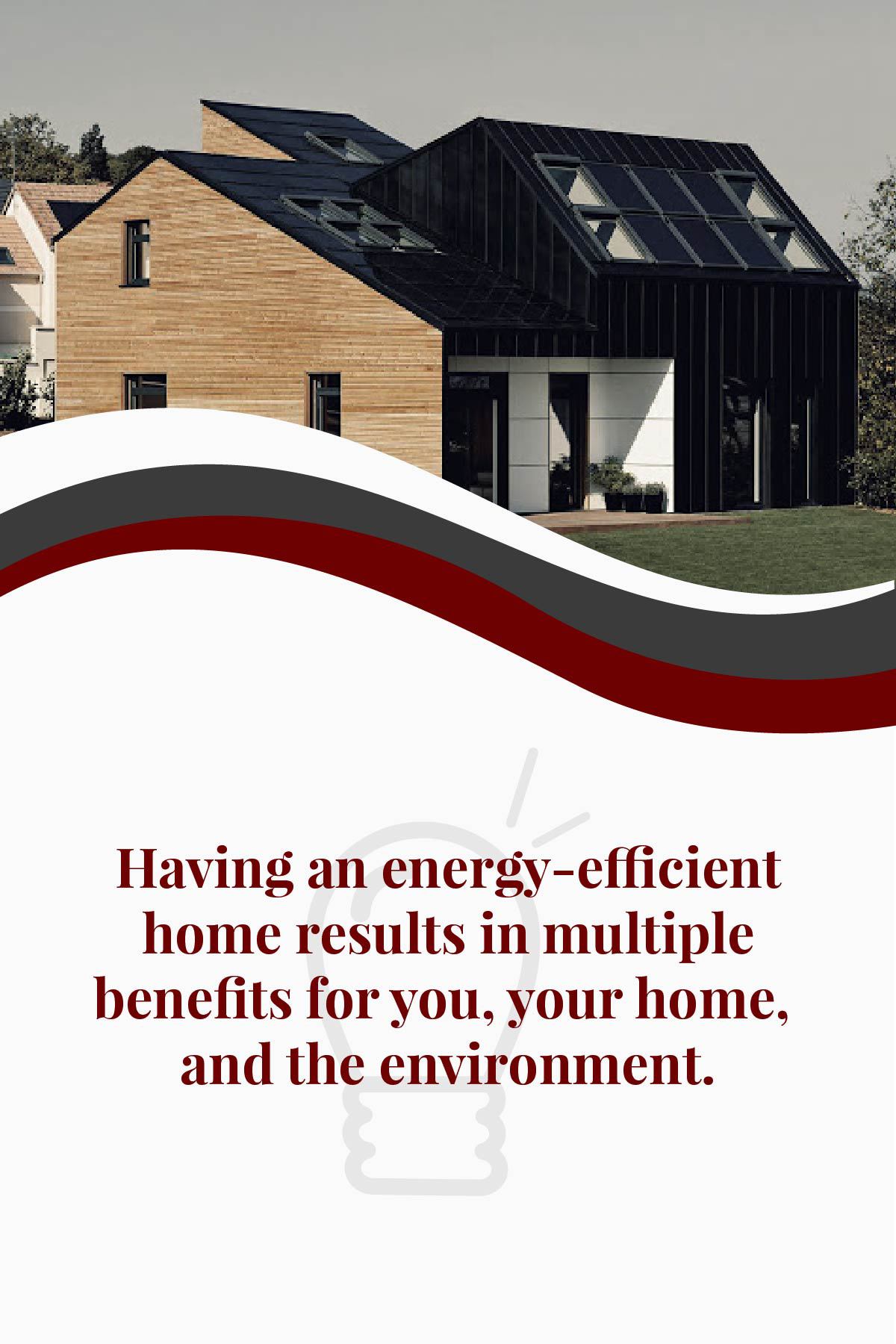 Here are a few ways to have a more energy-efficient home. For a complete list of Energy Star products, view their Product Finder here.
High-performance Windows and Doors
Efficient windows and doors do well in blocking infrared sunlight and regulating temperature.
These windows and doors help regulate temperature, and they also protect your interior furniture, rugs, and decor from fading.
Energy Star Appliances
When choosing your appliances, lightbulbs, and water fixtures for your home, look for the Energy Star logo. This ensures you are installing efficient appliances and fixtures that use less energy and water.
Efficient HVAC System
HVAC systems, which are the heating-ventilation-air conditioning of the home, are an important part of any home. They regulate the temperature and make sure there is sufficient airflow.
Part of having an efficient HVAC system is the actual air conditioner and heating equipment used, but it is just as critical to have ductwork properly installed and well-insulated.
ICF Construction
ICF blocks, short for Insulated Concrete Forms, is an alternative to pouring concrete walls in the home's basement and walls.
Similar to Legos, ICF Construction uses hollow blocks made of rigid thermal insulation. These blocks are stacked, securely interlocked together, and then filled with concrete.
Unlike poured concrete walls, ICF blocks remain after the concrete has dried. They remain a permanent part of the wall and help with the insulation and stability of the wall.
ICF construction has multiple benefits:
One of the most durable walls available
Very energy efficient and lower utility bills
Structural integrity in high winds
Resistant to insect or rodent damage, mold, and rot
If you are interested in building an energy-efficient home, you may want to read our blog: Net Zero Homes & New Energy Homes - The Benefits And Differences.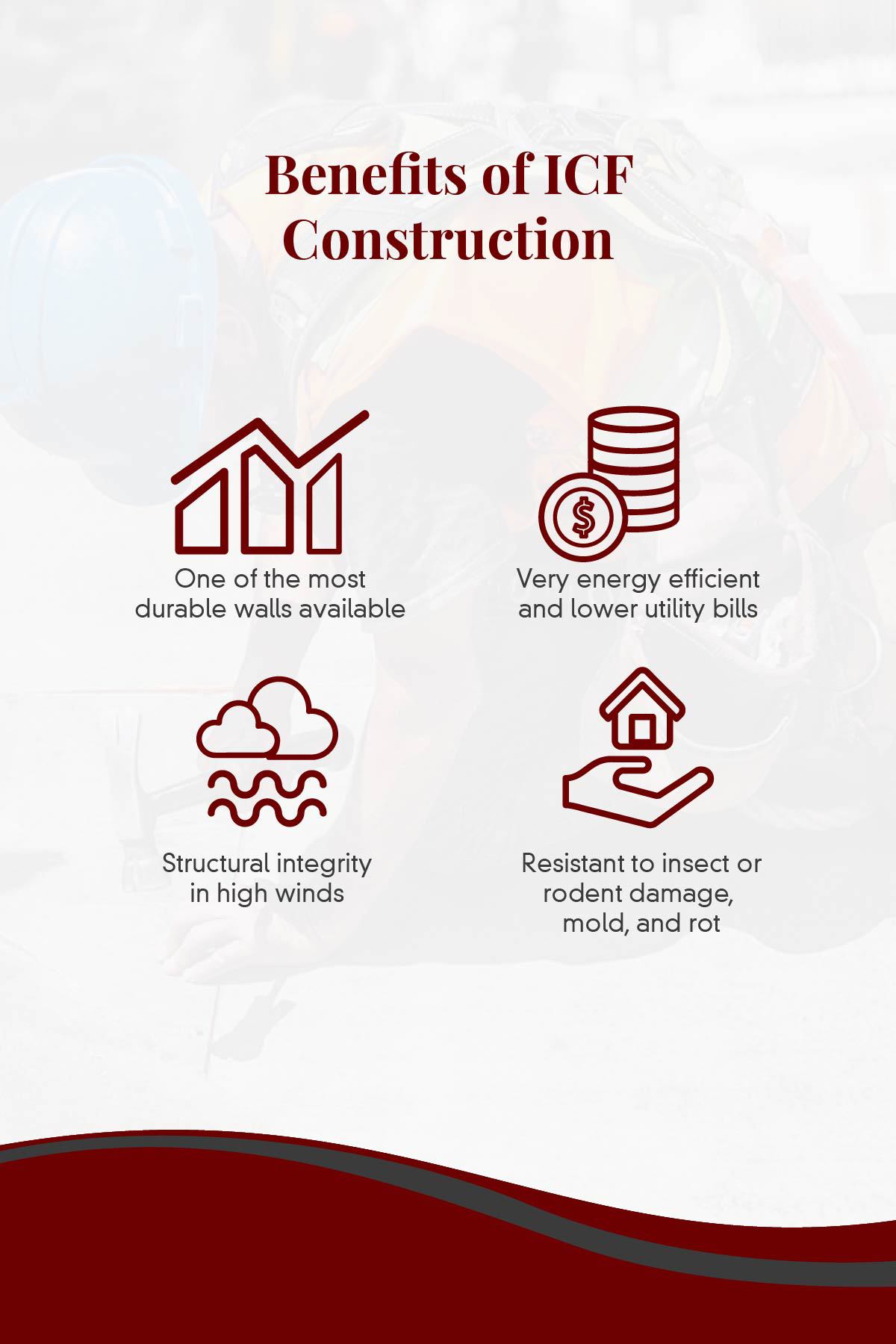 Choosing A Trustworthy Contractor
Yes, we have left the most important point for last!
Unless you are doing most of the construction or contracting yourself, choosing the right contractor is one of the most important decisions with your new home.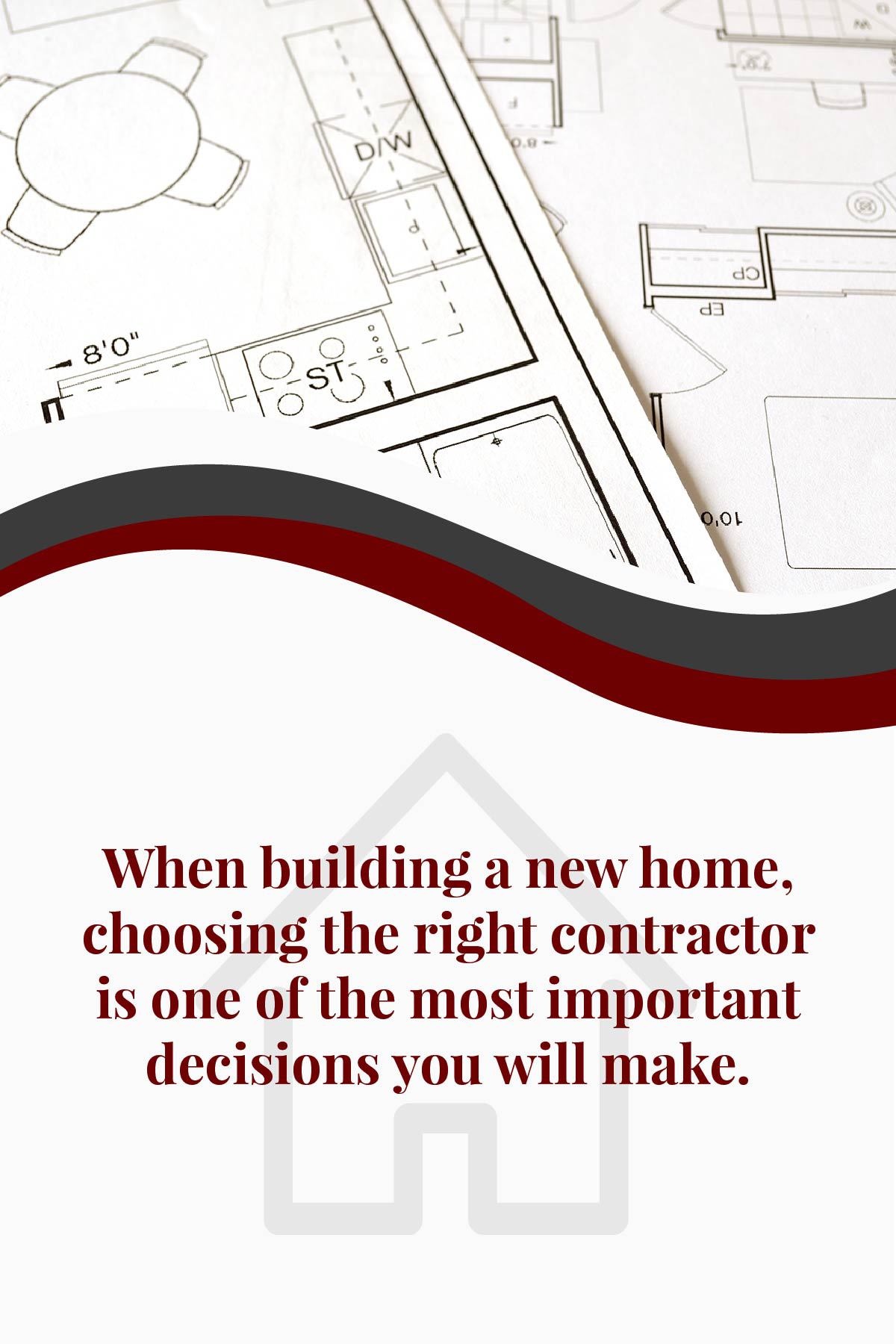 We have all heard stories about bad contractors who did shoddy work or used unethical business practices.
If you do construction work or already know a good contractor, then you are off to a good start!
If you are moving to a new area, or if your previous contractor was not trustworthy, then here are a few tips for choosing a dependable contractor.
Ask for reviews, referrals, and to see other projects.
Nothing speaks better about a contractor's reputation than talking to some of his other customers and seeing work his team has done.
Ask about certifications and licensing.
See what training and certifications your contractor has, and make sure his crew is covered with the proper insurance when working on your home.
Ask about their warranty.
Most parts come with a manufacturer's warranty, but see what workmanship warranty your contractor offers with the installation.
Ask them for a general job timeline.
Everyone knows construction projects can run into many unexpected glitches and issues, but your contractor should still be able to provide a general timeline for the installation.
Ask about the subcontractors they use.
Very few contractors build the whole house themselves, especially for finish work such as electrical, plumbing, painting, etc.
Ask about the subcontractors they use for this work and make sure these companies have no red flags.
No contractor is perfect. They are human and sometimes make mistakes.
The difference is a trustworthy contractor will own up to their mistakes and make them right.
Asking the previous questions and doing some research gets you closer to a contractor you can trust with your new home.
There is a lot to consider when building your new home, but don't be overwhelmed with the decisions! Instead, enjoy the process of making your dream home for your family.
If you follow the eight guidelines we covered, you will have a headstart in designing and building your dream home.
If you live in Central or Northern Indiana and are starting this home-building journey, then contact us at K. Graber Construction today. We offer new home construction and addition and remodel services. We also install the different products discussed in this article, such as metal roofing.
We work hard to be a trustworthy contractor, and we are more than happy to let you see our previous work or talk to former customers.
Contact us today to see how our team can help you make your dream home in Indiana. We look forward to meeting you!