The Pros and Cons of Stone Coated Metal Roofing (plus – is it right for you?)
You've probably heard rumors of stone-coated metal roofing and how it is gaining popularity with homeowners.  
You've probably also heard of people complaining about how expensive stone coated metal roofing is and commenting that it isn't worth putting on your roof. 
Are these people right?
Is stone coated metal roofing a complete waste of your budget? 
At K Graber Construction, we understand that you want to be well informed before making a significant decision like installing a new roof. 
That's why we're here! We want to give you an honest look at stone-coated metal roofing so you can decide if it's a good option for you.
Ready to find out if stone coated metal roofing is worth the money? 
Let's find out!
What is Stone Coated Metal Roofing?
First off, let's start with the basics.
What is stone coated metal roofing, and how is it different from traditional roofing materials like shingles and metal?
Well, plain metal roofing is a durable, long-lasting, low-maintenance option for homeowners. It takes very little maintenance and can sometimes last for 40-70 years.  
However, the problem with metal roofing is that it can look somewhat cold and industrial - it's not the most attractive available roofing material. 
Shingles are more attractive than metal. However, they break down faster and don't last as long, having a life expectancy more in the range of 20 years or so.  
Stone coated metal roofing combines the best of both worlds!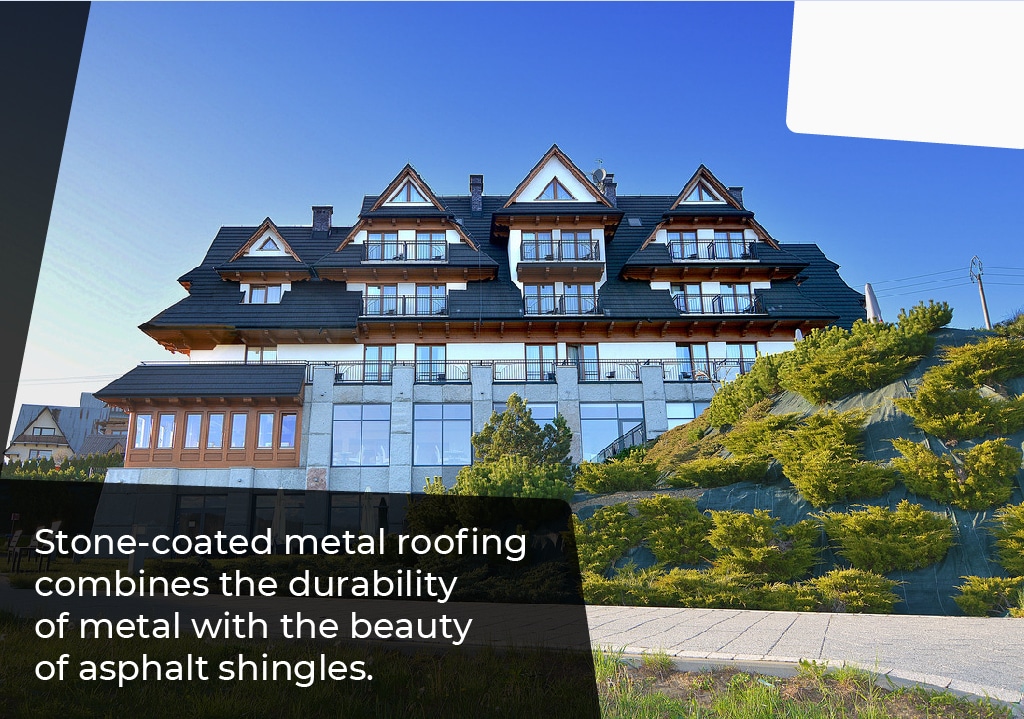 Stone coated roofs are made of metal shingles coated in paint and stone granules. They have the classic look of traditional shingles but the low maintenance needs and longevity of metal. 
Besides all that, there are even more benefits to using stone coated metal shingles!
Stay tuned! We'll explore these extra benefits later. 
Types Of Stone Coated Metal Roofing 
One perk that sells people on stone coated roofing is that (unlike plain metal roofing,) it comes in lots of different styles! 
It can look like: 
traditional shingles 

shakes 

tiles 
And stone coated metal roofing can be any color! 
With all this versatility, you can make your roof a perfect fit for your personal tastes and style! 
For example: Do you dream of having a Cape Cod house with shutters and wooden shakes? Or maybe you envision a villa with beautiful terra cotta tile.
Either way, you can get stone coated metal roofing that looks just like the style you want!
At this point you might be asking yourself: Ok, but how realistic does this actually look? 
Pretty realistic! 
It's not going to fool anyone close up, but from the ground it looks very close to the real thing. 
Look up some pictures on Google! Stone coated roofing is perfectly adequate to give you the specific look you want. 
Cons of Stone Coated Metal Roofing
Stone coated roofs have the beauty of traditional materials and the durability and longevity of metal. 
What's not to love? 
Well, for many, the main downside of stone coated roofs is the price tag. Stone coated metal roofing isn't exactly the cheapest option out there. 
Pricing varies depending on many factors: your roof layout, roof pitch, etc. Quotes also vary by installer and the products they use, but below are some general pricing estimates.
Asphalt shingles will typically cost between $300 to $500 per square. A square is 100 square feet.
On the other hand, stone-coated metal roofing can cost more in the range of $800 to $1200 per square.
That's right, a metal shingle roof can cost roughly double the price of a standard shingle roof! 
Ouch!
So why even consider metal shingles? 
Let's find out!
Advantages of a Stone Coated Metal Roof
Stone coated metal roofing is expensive. We won't deny that. 
But it comes with some remarkable benefits as well. 
Let's find out what they are. 
Standard asphalt shingles generally have warranties of 20-30 years, but stone coated metal roofing goes far beyond that. 
In fact, some manufacturers have lifetime warranties on their stone coated products!
Part of this is because it is a metal roof. This means you won't have to worry about cracking, curling, warping, or other factors that often make a shingle roof begin to have issues.
Due to the way the roofing locks together, it is also resistant to strong winds. Tests have been done with gusts of wind in the 120-170 mph range and the stone coated metal roofing held together!
Other factors, such as driving rain, also do not harm the roof.
Other tests have been done with earthquakes, hail, and other natural disasters, and stone coated roofing always lasted longer than standard asphalt shingles.
Of course, longevity is not the only factor you should consider when choosing a roofing material. If you want to get an in-depth picture of everything you should consider, read our blog: 7 Factors To Consider When Getting A New Roof.
Not only will your stone coated metal roof last longer than a standard shingle roof, it is also safer.
Due to the construction materials of the roof being metal and steel, you do not need to be as worried about your roof being a fire hazard. Asphalt shingle roofs, on the other hand, can be highly flammable due to their components.
Plus, some insurance companies will lower your annual premiums if they are aware that you installed a metal roof! You will need to check with them on the kind or style of metal roof they require, but you may be able to pay part of the roof with your insurance savings.
This is simply another benefit of stone coated metal roofing!
Stone-coated metal roofs add resale value to your home for 3 main reasons:
First

, because they last longer than standard shingles, they increase value because the new owner knows he won't have to replace the roof as quickly.

Second,

because they are made of metal, they don't show wear or fading as quickly. This keeps the roof looking nicer for a longer period of time and helps the aesthetics of your property.

And third,

metal roofs do a better job at reflecting sun rays. This means that houses with metal roofs tend to be more energy efficient during summer months, especially in areas with a lot of direct sun. 
However, one downside of stone-coated metal roofing is that it is more difficult to install than other roofing materials like asphalt shingles.
That means you should put extra effort into finding and hiring a reliable contractor! After all, stone coated metal shingles won't add value to your home if they aren't installed properly!
One of the best features of a metal roof is that it can be constructed of recycled materials.
Unlike asphalt shingles, when a metal roof is replaced or removed from a building, you don't need to haul everything to the nearest landfill.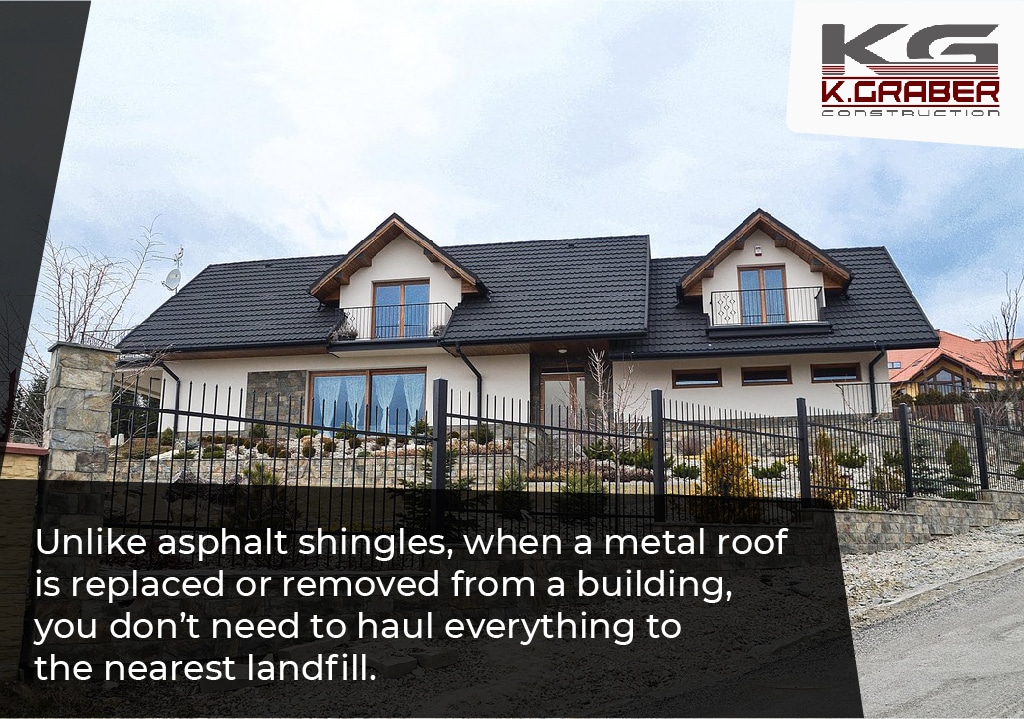 Instead, you can simply take the metal shingles and components to your nearest recycling center to be melted down and used again!
So not only will you rarely have to replace your metal roof, when you do have it replaced, you can rest knowing that the old roof is being recycled.
Due to the build of stone coated roofing, it does a better job at reflecting UV rays from the sun.
The result?
Energy bills are often less for buildings with stone coated metal roofing, especially in warmer climates where you need to use a lot of AC. Attics and buildings in homes with stone coated roofs stay cooler because not as much sunlight and heat are entering the building's structure. That means you don't have to use as much energy to cool it down. 
The other factor that makes stone coated metal roofing energy efficient is the fact that it is recyclable. Because metal is a large part of the structure, the roofing materials can be broken down and reused.
No more plugging up your local landfill if you ever need to replace your roof!
If you are interested in building an energy-efficient home so you can help the environment, you may want to read our blog: Net Zero Homes & New Energy Homes - The Benefits And Differences.
This is one of the most beautiful things about stone coated roofs for homeowners: they require very little maintenance! 
Any homeowner knows exactly how valuable this is! 
When you don't have to worry about repairing your roof, you have more time to spend on the things you truly care about.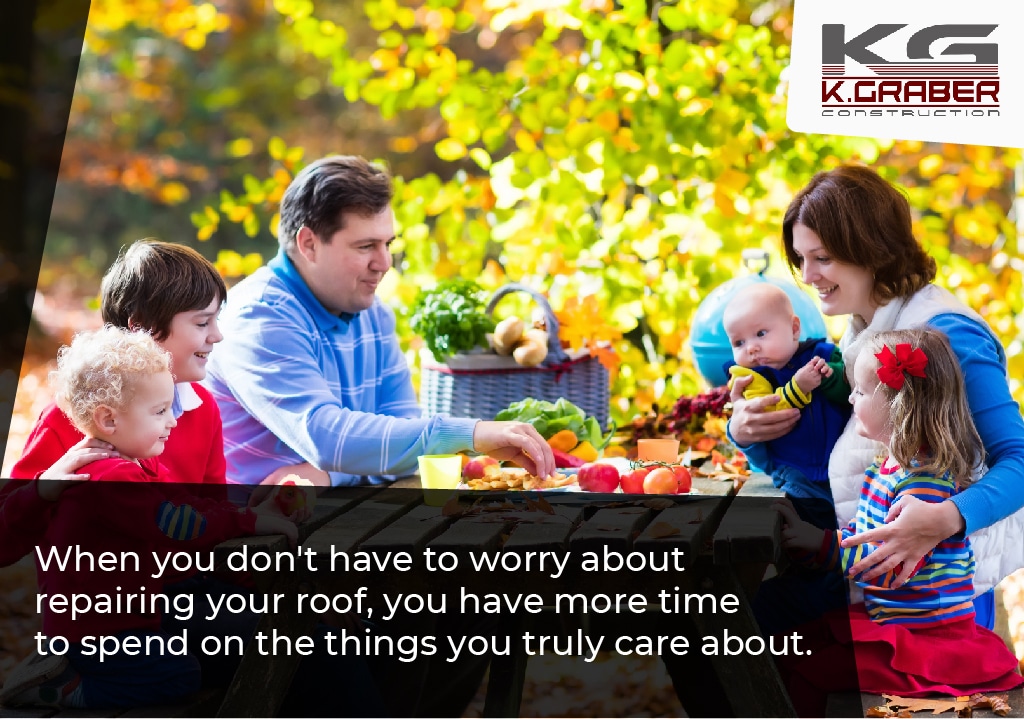 Who wouldn't want to have more time for family and friends, and more brain space to tackle the problems that really matter in life? 
The only thing you have to be aware of is keeping large amounts of debris off the roof. Like any other structure, don't let large clumps of leaves, branches, or other debris gather in corners or gutters of your house roof. 
When you hear about a roofing material made from metal and stone, the thought may pop into your head: 
Isn't that incredibly heavy? 
Thankfully, the answer is no! 
Stone coated metal roofing weighs less than two pounds per square foot. To put that into perspective, asphalt shingles typically weigh 2.3 to 4.5 pounds per square foot, and tile can weigh 8 to 12 pounds per square foot. 
Because it is lightweight, stone coated metal roofing can save you money in two ways: 
First, you may be able to install it over top of your old roof. This means you will save the time and labor it would take to tear your old roof off. 
And second, it saves you dumping fees for your old shingles, as well as possibly saving you from dumping them in a landfill. 
Here's the thing: 
We've listed several benefits of metal roofs. But, when you decide that metal roofing is the best option you are still faced with many options - do you want standing seam? Perhaps you prefer corrugated metal? Which one is better? 
If you need guidance on which metal roof is best for you, read our blog: Choosing The Best Metal Roof For Your Home Or Business - Everything You Need To Know.
Is Stone Coated Metal Roofing Noisy?
Before we go further, maybe we should address a question that most homeowners have probably heard something about: 
Because stone coated roofing is made of metal, is it noisy when it rains? 
The answer is - no. Stone coated metal roofs are actually not terribly noisy when it rains. 
Many people assume a metal roof on a house will be noisy because of their experience in buildings like sheds or barns with metal roofs. But these metal roofs are typically just installed over a frame, with no insulation. Of course they will be loud. 
However metal roofs on houses are installed over a wooden roof deck, layers of insulation, and possibly an attic, all of which help to absorb the sound. 
Studies by The Acoustic Group from the University of Lulea showed that rain on a metal roof measures about 52 decibels. That's about the equivalent of a quiet conversation. 
Most people don't find a sound annoying until it reaches about 70 decibels, so at 52 decibels, rain on a metal roof probably won't annoy most people.  
Is Stone Coated Metal Roofing Right For You?
Ultimately, the question of whether you should go for stone coated metal roofing is up to you. You know your situation and needs like nobody else does. 
Our verdict is: If you can afford it, stone coated metal roofing is a good buy. It's attractive, low maintenance, and lasts forever. And you can customize it however you like! 
So if you have the budget for it, stone coated metal roofing is worth it. 
However, if you need to save money now, rather than in the long run, you may want to invest in a cheaper kind of roofing such as asphalt shingles.
There you have it! 
Stone coated metal roofing comes with some great benefits, and it is worth the money if your budget is up to it. 
Now you know more about what those benefits are and whether stone coated metal is the right roofing material for you. 
If you think you would like to replace your roof, or if you are ready to install the roof on a new house, give us a call at K Graber Construction! 
It's easy to work with us:
Get a quote

Approve the estimate and design

Watch as we install your new roof

Love your home! 
At K Graber, it doesn't stop at roofs, either. We offer a variety of services such as pole barn homes, concrete pouring, ICF construction, steel buildings, additions and remodels, and more. 
Whatever your building project is, we can help! 
We would love to hear from you. Contact us today!